Mini-Newsletter + Thankfulness! 💞
Hello, you cute tofurkeys!
Hug a vegetarian this week! It's me. Good thing I've always loved Thanksgiving side dishes the most. This is going to be a shorter newsletter for what is, at least in the US, a short week. If you're anywhere else in the world, I'm sorry it's only a regular Wednesday(/Thursday, depending on time zone, idk)! You should eat lots of food the next few days anyway. Now, per the subject line...
First, news and updates (in short)
---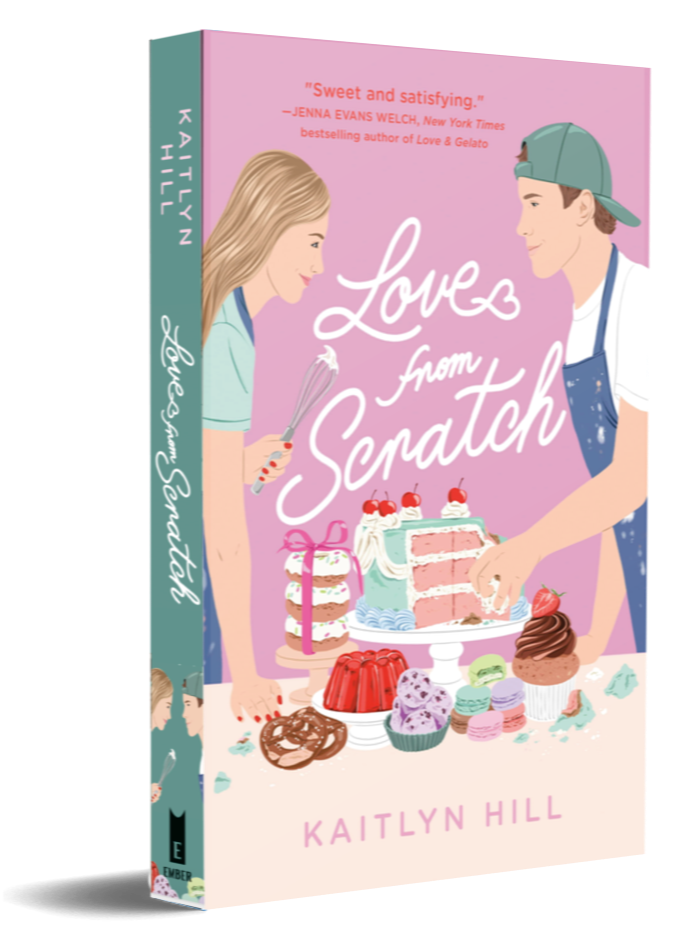 LOVE FROM SCRATCH comes out in paperback on January 3rd! If you haven't gotten your copy yet, you can pre-order a pb now! We love a cheaper price tag. We love even MORE that it'll have an ~exclusive~ first look at the first chapter of Not Here to Stay Friends in the back!!! Omg it's gonna be so cute.
NOT HERE TO STAY FRIENDS comes out in just over four months! Another cute paperback coming in hot, along with ebook and audio versions. If you've been here a while, or follow any other authors anywhere, you probably know how important pre-orders are to show publishers and booksellers that there is interest in a book, so if you know you want this reality dating show rom-com, I'd looove if you reserved your copy early! Think of it as a present to April 4th you. :) And hold on to your receipts, as there may or may not be fun pre-order incentives in the works!
Other than that, still writing book 3, WILD ABOUT YOU! At this particular moment in time, I feel really good about it. The characters have been fun to create and explore new themes with, and I've done more research for this book than any of my others so far. Will that be apparent in the final product? Stay tuned!

The Kentucky Book Festival last month was a blast! I loved meeting more local authors and talking with readers in person. I wanna do all the book festivals pls. I also got invited to an awesome event on young adult literature at my alma mater, Transylvania University, and talked with current students there along with students from a local middle school about writing, publishing, and Love from Scratch. It was delightful!! Also made me want to do more school visits in the future, so there's a theme here.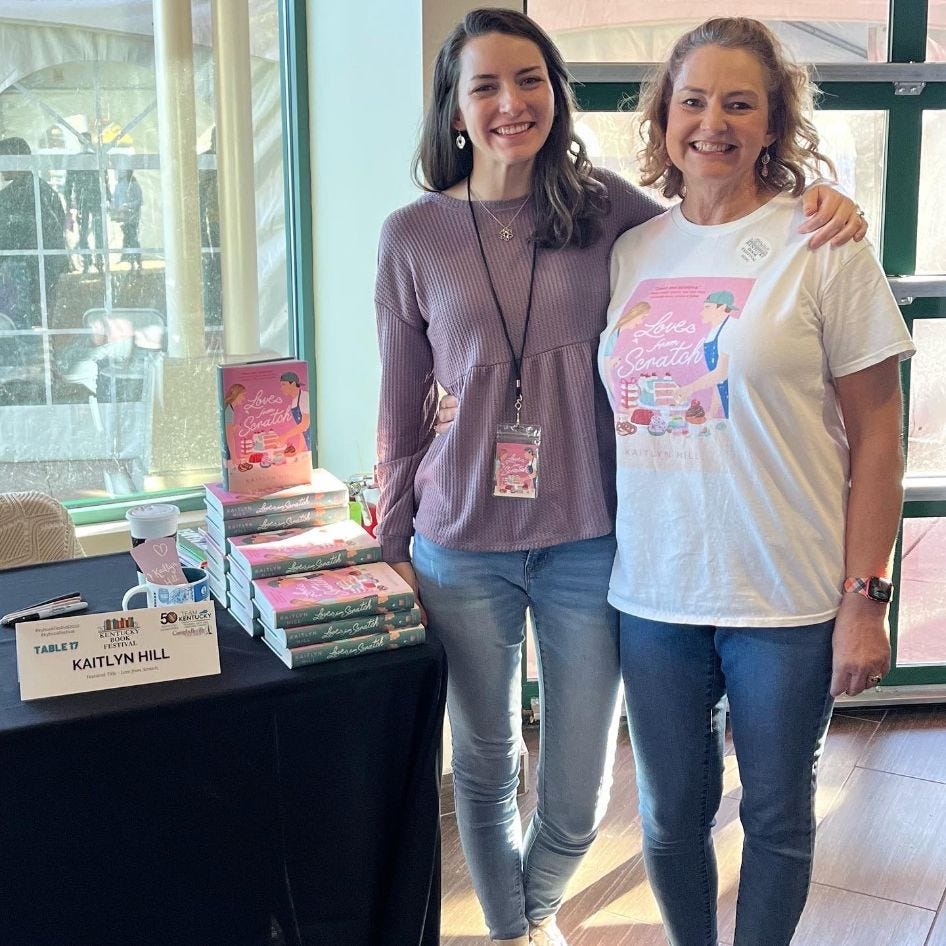 Some wild fan* wore my book cover on their shirt to the KBF! I wore school colors to speak at my alma mater like a dweeb!
*it was my mom
Now for the thankfulness part
---
It's obviously not quite time for the ol' end of the year reflections, but in the spirit of the holiday in my part of the world this week, I just want to say one gigantic thank you.

Thank you!

For one thing, thank you for tolerating whatever absurdity I decide to throw at you each month in this newsletter. But much more than that, thank you for helping make this year one of my best ever. Some of you have been with me since this was an email list with updates from my old travel/mental health/everything blog, Adventures with KHill. Some of you have been with me since...a long time before that! But no matter when we crossed paths, the fact that you're getting this newsletter means you've probably played a big part in my life and writing career whether we've ever actually spoken one on one—by cheering me on, laughing at my bad jokes (+ maybe even some good ones), celebrating on the good days and supporting me on the bad ones, and yes...buying and/or reading my books :) The last five-ish years have brought more change and growth than I can even really put into words, and included the very best and worst times I've experienced. I say it all the time, but I feel ridiculously lucky to be where I am now. Thank you so much for your role in it! If I knew how to put heart emojis in this thing, I would put every type of heart here.
Okay, and one small, non-sappy, admin thing
---
With the impending possible-demise of That One Social Media Site, everyone and their mother is emphasizing the importance of the newsletter for authors to connect to their readers. Way ahead of y'all! We love author newsletters around here!! But this has also made me realize that everyone and their mother has a COOL NEWSLETTER NAME. As you might see above, my newsletter is called "[month] Newsletter [emoji]." BORING! So I'm seeking your help coming up with a better name. You know I love puns and "Hill" presents us with many pun opportunities. Thought about "Hills to Die On," but that's a little bleaker than the normal book news vibe. Will save it for the memoir of all my hottest hot takes that I publish from my deathbed. Anyyywaaayy, please submit your ideas below, and if I choose yours, I'll send you a signed paperback copy of Love from Scratch!
That's all from me this month! Hope you and yours are happy and healthy, and if you're celebrating, have a beautiful Thanksgiving!

xoxo,
Kaitlyn